WORKSHOP POSTPONED DUE TO CORONAVIRUS ADVICE
Ilkley Choral Society are organising a singing workshop that is free and open to all.
It is on Saturday 28th March at Ilkley Playhouse from 2:30-4:30pm.
Absolutely anyone is welcome, you do not need to be able to read music or have any experience of singing in a choir.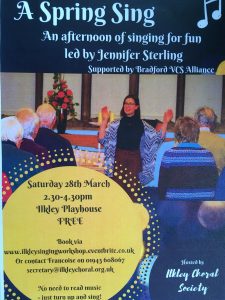 The session will be lead by Jennifer Sterling. She is a vibrant and energetic conductor, arranger and performer. Experienced in leading community groups to professional choirs she has delivered workshops at all levels. Currently working as Choral Delivery Artist at Opera North, she is also Musical Director of both Ilkley and Otley Choral societies in addition to professional octet, Octavoce.
We're grateful to Bradford VCS for their support in enabling this event.
Tickets are FREE and can be booked